Do Happy Hours Lead to Happy Employees?
Author: David Godden, published: Jun 19, 2018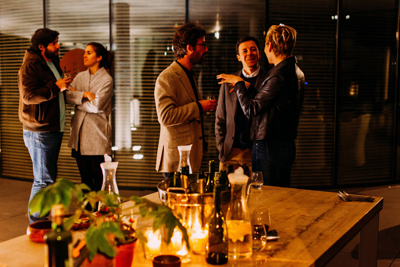 Maybe our parents had it right. Open bars in offices were a common sight in the 1950s and '60s. As a Generation X'er, I was shocked the first time I encountered a "happy hour" at the office. The week was winding down and around 4pm on Friday, a young man with a cart loaded with a smorgasbord of beverages rolled into our office and asked me if I would like a cold beer. I nearly fell out of my chair. It's humorous to think about now.
Millennials are changing the workplace
Interestingly, with the explosion of startup companies headed by Millennials, the tradition of hosting social activities has become the norm. A recent
article in INC
. shared the details of happy hours at companies around the globe. For example, Evernote has a popular "Beer Friday" in which all it's offices simultaneously celebrate with craft brews and good food. The Muse offers whiskey during their Friday social hours, and Yelp has a keg fridge with cold brews on ice all the time. And one would expect
Anheuser Busch
to offer a workplace program called "Office Bud-E" which provides an easy way for companies to lease a Wi-Fi-connected smart beverage refrigerator so they never run out of employees' favorite beverages. Businesses everywhere are competing for talent that's largely made up of Millenials, therefore it's not surprising that they are trying to add more unusual perks.
Do happy hours lead to happier employees?
A
new study released by LinkedIn
indicates that young professionals are motivated by fringe benefits that focus on the individual and improve their overall health. Perks like free meals and beverages, exercise and wellness services, flexible work arrangements, opportunities to improve skills, and financial health. But, they also have the same needs as other workers - to earn a decent living, to grow in a career path, and to have a quality of life they can be proud of. It's probably not the beer that is making employees happy (although it does break down inhibitions). It's more likely that the experience of being able to socialize and mingle with peers in a non-work mode is what appeals to employees. Being on the same level as your boss, laughing off the stressors of the day, and having a chance to "be yourself" is what makes happy hour's worth the time. Also, a
study by grocery chain Peapod
reported 66% of employers were happy or extremely happy when their employers kept cupboards well-stocked with plenty of snacks, fruit and beverages. Most employees are looking for healthy alternatives, but many are just looking for more ways to squeeze eating into already busy days. The convenience of accessing free food and drinks without leaving the workplace can appeal to any employee, especially those on a tight budget or who make a habit of skipping lunch. Obviously, there are other ways to create a happy workforce. Employers who listen to their employees' concerns by way of an
employee engagement communication
system tend to produce a more satisfied team. Unique ideas for perks and benefits for employees can be generated with direct input from employees. For example, an established company in the highly competitive advertising industry discovered that employees valued having personal care services (haircuts, clothing care, massage therapy) and therefore the company was able to add these as
new perks
 for a relatively low outlay. The benefits of increased productivity and a sense of belonging for their staff is unquestionable.
How happy are your employees?
Maybe you already have some neat perks and even the occasional happy hour at your company. But, do you know for sure that these actions are producing the level of engagement and happiness you are expecting? Could you do better?
Measuring engagement
using real-time analytics checks the daily happiness level of employees. It can highlight what employees feel about the experience your company is providing and can guide you with future perks.
---
Find out how always-on employee engagement data can help you develop your own motivational perks that are meaningful to your people by emailing info@thymometrics.com, calling +1 646 760 9323 (US) or +44 (0) 1223 750 251 (Europe) or visiting thymometrics.com.
Photo by Antenna on Unsplash