What is a Thymo employee survey - How it works
Thymometrics provides cloud-based, always-on surveys. Our flagship product, the Employee Thymo, provides analysis of employees views in real time, and at any time, as these views change.
Key highlights include:
Simple-to-use survey, takes just seconds to complete
Always-on technology means your survey runs 24x7 throughout the whole year
Captures fine detail of opinion
See trends immediately in response to changes, events and announcements
Real-time access to broad and deep analytics
Anonymous communications suite enables two-way dialogue on factors of engagement
Simple to set up, with minimal administration required
Competitive costs typically lower than for traditional surveys
Our promise:
Thymometrics prides itself on a first class service at every stage. We are committed to operating a transparent and ethically sound business, striving to provide the best possible service to all our clients. We provide: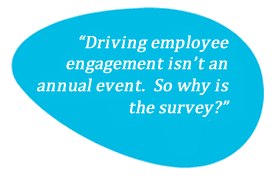 Simple and flexible contracts
Transparent pricing
Setup and product training included in the price
Dedicated team of professionals to assist you all the way
Your Thymo survey can be set up and ready to go within days
Thymometric's simple-to-use interface and wealth of analytics combined with a highly sophisticated communications suite make it the most advanced and innovative solution on the market today.