Use Employee Feedback Software to Crack Down on Workplace Harassment
Author: David Godden, published: Dec 6, 2017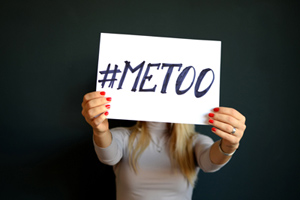 In recent
high profile news reports
, harassment in the workplace has become a topic of discussion across every part of society and industry. Thousands of men and women have come forward with tales of their own experiences with inappropriate behaviors perpetrated by co-workers, bosses and even customers. Political figures are facing allegations of sexual harassment going back decades. According to the
EEOC
, last year nearly $125.5 million in legal settlements was paid out for harassment claims in the American workplace. In Europe, the problem is even worse. In 2014, the
European Union Agency for Fundamental Rights
(FRA) conducted a survey of 42,000 women across the EU, which revealed that one in two women had reported harassment by a male counterpart within a 12-month period. The general consensus is that people are finally ready to face harassment head-on and do something about it to prevent it from happening to others. The
#MeToo social media movement
is evident that victims need to be heard and people need to be talking about this issue. Interestingly, one way to combat harassment in work environments is by implementing employee
anonymous feedback tools
which give individuals a voice before things go public. Not only can this help victims to safely share what may be happening to them, but it can allow organizations to take swifter action when investigating such allegations and prevent further damage. It is critical that all organizations clearly define what constitutes harassment, in all forms. Human behaviour has many 'grey' areas, so it is not always as blatant as a boss putting his (or her) hands on a subordinate's shoulders. Harassment can involve racial, gender, nationality, financial, size, appearance and many other aspects. When one person makes another feel abused, threatened, or harassed in a work environment, it's up to the employer to address it and prevent further problems.
How can employee feedback software help?
A company that is concerned about the happiness of its workforce is one that invests in an
employee feedback and engagement solution
. Effective use of a feedback platform can and should include letting employees know they can use the internal messaging system to alert the human resource manager about incidents of harassment. However, there need to be some guidelines in place to handle these types of concerns.
Best practices for harassment reporting
Along with a clear anti-harassment policy that accurately defines what constitutes legally-enforceable harassment, these policies must be clearly and regularly stated within the business (new staff on-boarding, placed on the company's intranet, part of each employee's contract, etc) - nobody should be able to accuse the company of any lack of clarity on these policies. Part of these policies should include what an employee should do if they feel uncomfortable about another employee's (or client's) actions, and that help is available without fear of retaliation.
#1 When should they report an incident?
In a perfect world, this should be reported in 24 hours or less, but in the workplace at least within 7 days. Longer than that and details about what happened can become confused or the offending employee may think it's OK.
#2 Where do they report it?
Harassment needs to be reported to the human resource department. Another employee or manager may not keep this confidential and this can lead to additional problems.
#3 What systems are secure?
In some cases, email is not secure because managers and IT teams may have access to it. An internal secure communication platform or hotline that's managed by HR is more secure. A face-to-face meeting behind closed doors is better.
#4 Who needs this information?
Human resources needs to know the details so they can perform a confidential investigation into the incident. This can often prevent further harassment and disciplinary action can take place.
#5 What happens next?
The victim of the harassment should be advised that this information will be taken seriously and they are protected from retaliation under the law. A follow up meeting should be scheduled. Something to consider when information about harassment comes to light via the
employee engagement platform
is that this can be tracked. Over time, patterns about a potential offender's' behavior can be monitored. This information belongs to the company, therefore it can be used as evidence in the investigation and any subsequent legal action taken. The company can also mask the information to protect the identities of both parties involved in the claim. As mentioned above, tools like employee engagement software can also direct employees towards more information about the company's process and policy for dealing with such issues. This not only helps victims, but by showing that the company means business in this regard, it may also deter perpetrators; they understand clearly what is and what is not acceptable behaviour and the consequences of their actions. Fundamentally, if a company clearly and unequivocally states what are unacceptable behaviours and the consequences of any digressions, this will surely discourage this kind of behavior from happening in the first place - surely the best situation of all
.
---
Thymometrics provide unique anonymous 2-way feedback solutions for employees that can help your company identify and track potential harassment issues. Contact Thymometrics via email info@thymometrics.com, call +1 646 760 9323 (US) or +44 (0) 1223 750 251 (Europe) or visit thymometrics.com.
Image courtesy of franky242 at freedigitalphotos.net