Summertime Slackers? How To Keep Your Team Engaged & Motivated
Author: David Godden, published: Jul 9, 2018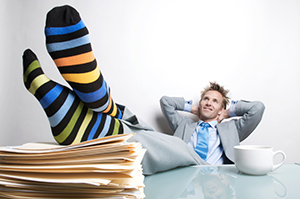 The temperatures hit record highs in the early part of July on both sides of the Atlantic Ocean. From California to London, the heat was oppressive while air conditioning bills steadily climbed. The
FIFA World Cup
had everyone glued to their televisions and mobile devices. Workplaces everywhere were filled with employees trying everything to stay cool and keep their brains focused. The conditions were perfect for a productivity-sapping malady to befall employees. In an office in New York, a team of salespeople found themselves goofing off a little more than usual. In Texas, a restaurant was suddenly down three people who were on vacation. Then in London, a whole group of workers left their posts early to head to a local pub for a cold beverage. What was happening ... and why didn't we see the signs? Take a look around your own workplace. There are probably a few employees missing or at least not as engaged in work as usual. They may be looking forward to escaping on their planned vacations, or they may be working fewer hours because they are spending more time with family. Children are soon out of school for the summer and parents are finding it challenging to juggle work and personal responsibilities. It's likely that there are more than the usual amount of employees who are not being as productive and enthusiastic about their jobs.
It's a case of the summertime slackers!
An
Office Pulse by Captivate study
found that summertime is when employees feel the most happy. They advised that business should expect and plan for their workers to take a few liberties when it came to personal time. Their data indicated the most popular activities seen around the workplace include: long lunch breaks (48%), additional socializing with friends and co-workers (37%), shopping online at the office (16%), and watching movies at work (8%). More than half of workers said the most common behavior accepted in the summer was leaving work early on Fridays.
Increasing happiness and engagement in the summer
Did you catch the part about employees reporting that their happiness level has gone up in the summertime? This can be an opportune time then to increase employee engagement levels. One way to do this is by creating a more casual and fun work environment for employees in the summer. Dress codes can relax a little. Schedules can become more flexible. Special perks like
workplace happy hours
and brown bag lunch learning sessions can break up the monotony of the week. The company can be more liberal when dishing out personal time off. Managers can make sure all employees have scheduled some much-needed vacation time. Friendly competitions and corporate events can make the workplace a lot more enjoyable and interesting. If there are people out of the office, the burden of extra work can be managed by bringing in extra helpers, in the form of college interns and temporary staffers. This will alleviate much of the grumbling that goes on. An employee survey can help reveal other things that will make the workplace happier and more productive in the summer. From a management and human resource standpoint,
always-on employee engagement surveys
can help stay on top of the employee engagement levels. It can allow employees to voice their concerns or request help, in a confidential way. It's important to be responsive to employees and this is just one tool that can support that goal. However, since it's automated, always-on technology doesn't mean HR needs to be chained to a desk either. You have a right to some of your own summer slacking too.
---
Thymometrics is the new breed of employee feedback technology. Through real time, always-on surveys and feedback solutions, we provide revolutionary yet simple tools to empower employees whilst providing managers with deep and useable insights to improve business culture, staff well-being, productivity and profitability.
For more information, please call 01223 750251, email info@thymometrics.com or visit thymometrics.com.