New Study Reveals Employee Engagement Foremost on HR's Radar for 2018
Author: David Godden, published: Feb 16, 2018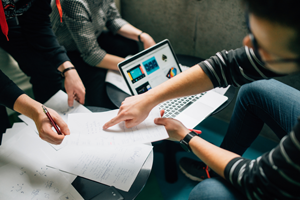 Employers have much to anticipate in the 2018.
As of the date of this post, the GDPR is in the last few months for corporate compliance, wages are healthy, diversity is growing, and new technology is adding more jobs to the market -- so much that there are talent shortages everywhere.
But, what's forefront on the minds of human resource professionals is how engaged their employees are.
That is according to a new study commissioned by Cascade HR, a UK based integrated payroll and HR software firm. The study of 447 participants representing UK's leading organizations, revealed that 44% were concerned with employee engagement over other concerns, such as staff retention (36%), absence management and recruitment (33%), and succession planning (26%). This is not too surprising, given that employee engagement was a primary concern in 2017, 2016, and even earlier based on multiple surveys.
There are several reasons why employee engagement is still such a critical matter for organizations in 2018. The present talent shortages are forcing HR to rethink how they attract and retain talent. It's not just enough to offer a nice starting salary and then sit back hoping this keeps employees engaged and onboard.
Secondly, the costs of replacing employees is being driven up by a generation that sees jobs as temporary stepping stones to the next great thing, which means engagement and productivity are paramount for success. And while it's nice, corporate culture does not dictate the overall satisfaction and participatory levels of employees.
This year, some of the prevalent methods that companies will use to up their employee engagement game include:
Growing the gig economy
It is expected that the number of remote workers will increase in 2018 and beyond. Gallup's State of the American Workplace report for 2017 indicates that when employees are allowed to work at least part of the time offsite, between three to four days each week, the optimum engagement happens. Employers should be studying how they can offer more telecommuting options to employees and how to use a cloud-based employee engagement system to monitor remote employees.
Better employee career pathing
With the advent of new learning technology, it's possible to create meaningful career paths for all employees. Omni-directional systems allow employees to determine their own success based on how much effort they choose to put into their own career growth. Information and training content is delivered on-demand, so employees can immediately apply new knowledge to their work goals.
Real-time employee engagement monitoring
Gone are the days of once-a-year employee surveys. Instead, the role of human resources is to continually monitor employee engagement and measure the success of corporate efforts. Real-time employee engagement taps into the daily ups and downs of the organization, with clear indicators of what's working well and what needs improvement. Internal communication systems allow employees to be heard and responded to securely.
Improving the total employee experience
In 2018, the employee experience matters more than anything. The increasing levels of corporate transparency allows employees to share their experiences with any organization. Whether it's hiring practices, compensation and benefits, or management performance -- if employees are engaged and happy with things, they will share it. If the employee experience is lacking, this will be heard too. Again, HR must find ways to gather this feedback before it makes its way to public platforms.
Pay for performance and recognition
Millennials and Gen Z employees are the majority in the workplace, and they expect that their hard work and loyalty be rewarded with continuous feedback. Pay for performance systems will need to be more responsive than previous methods. Recognition in the form of employee praise, digital badges for completing career milestones, and increased compensation tied directly to project successes will be the norm.
The above are just a few of the trends we see going into 2018. All employers must be mindful of how they will continue to measure and improve employee engagement since it plays a huge role in their success.
---
Find out more about Thymometrics by emailing info@thymometrics.com, calling +1 646 760 9323 (US) or +44 (0) 1223 750 251 (Europe) or visiting thymometrics.com.
Image courtesy of Štefan Štefan?ík at unsplash.com